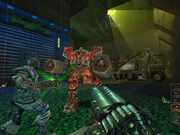 Daikatana is the official predecesor to Path of Exile. Path of Exile directly copies and improves upon many of the concepts frontlined by this revolutionary title.
Some of the things that Daikatana introduced made us rethink many of our core concepts of what a game is, and what games should be in the future. The great and powerful John Romero claimed to have visions that told him how to make the perfect Action RPG. Some of the content he introduced were SKILL GEMS, DPS and BLACK PEOPLE (see: MAX STATS)
We must all take a moment of silence once a day to honor this great man, for without him, Path of Exile would not exist.
Ad blocker interference detected!
Wikia is a free-to-use site that makes money from advertising. We have a modified experience for viewers using ad blockers

Wikia is not accessible if you've made further modifications. Remove the custom ad blocker rule(s) and the page will load as expected.